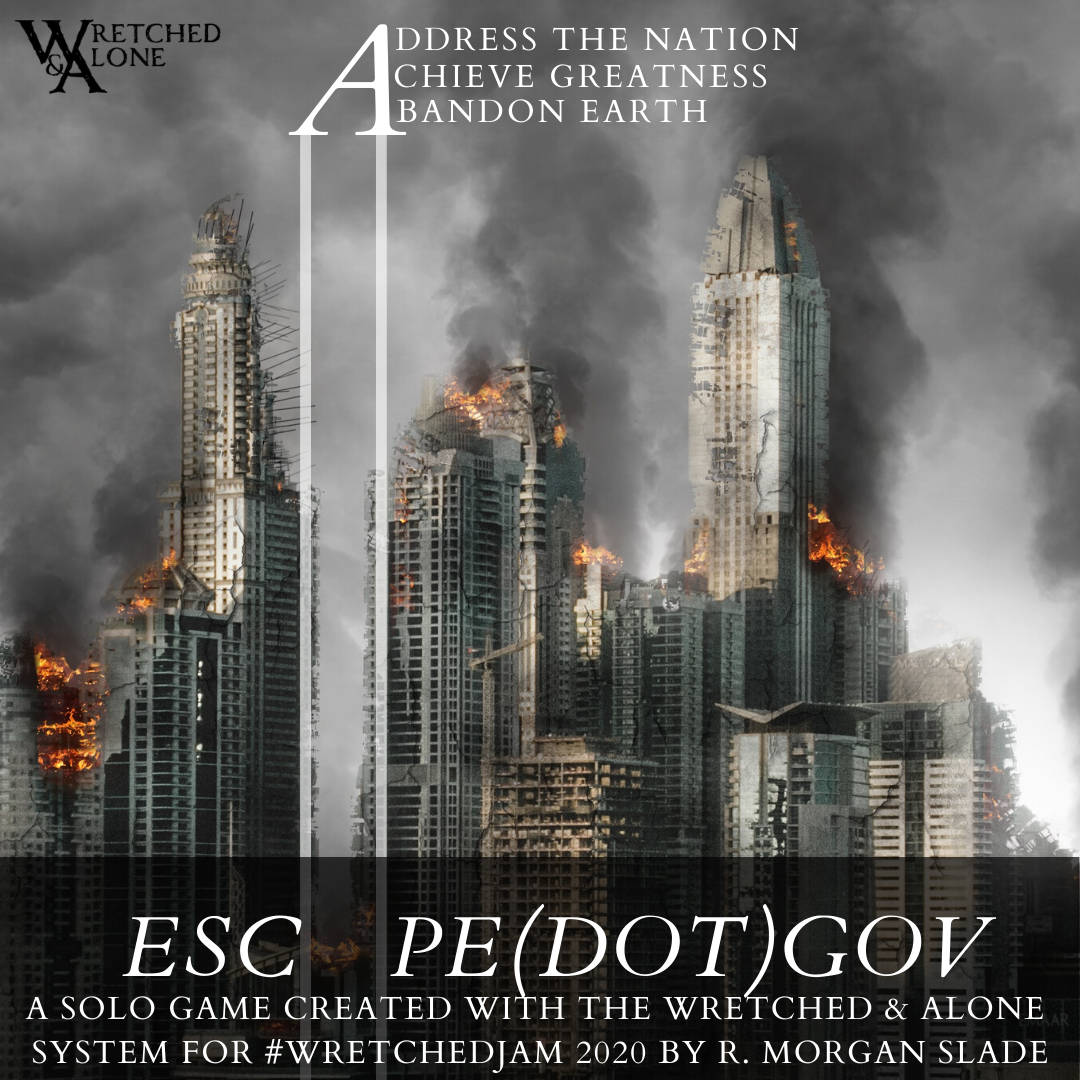 Escape(Dot)Gov
A downloadable Solo Journaling Game
Escape(Dot)Gov is a solo journaling RPG, made using the Wretched & Alone rules by Chris Bissette and Matt Sanders.
You are the greatest leader of the greatest country on the greatest planet in the entire world. At least, that's what you tell everyone. Your self-serving interests have ruined the ecosystem and destabilized the atmosphere, and with dissenters calling for your head, it's time to leave.

There is no escape for you on Earth. Can you build a colony ship and rig the Escape(Dot)Gov lottery to secure your own survival and outrun the consequences of your actions against the planet and its people before your schemes are revealed and your administration is dissolved?
Escape(Dot)Gov is meant to be a nearly impossible game satirizing the struggle to escape your guilt and treachery as a megalomaniacal leader whose time is running out. For those seeking alternate themes or a more positive outlook, alternate rules are included for Escape(Dot)Org: an experience from the perspective of the people after having overthrown this tyrannical leader, working together to build colony ships and offer a fair shot to everyone for the world to board while stabilizing the ailing planet.
For the experience as designed, this game requires a block tower, deck of cards, six-sided die, ten tokens of any kind, and a method of journaling or recording. Any or all of these requirements can be substituted as desired or needed. Enjoy the game!
Content warnings include gaslighting, dystopian and doomsday scenarios, narcissism, and public speaking. Please prioritize your mental health and adjust gameplay accordingly.
*EscapeDotGov and EscapeDotOrg are not actual websites affiliated with this game*
This game was made as part of the Wretched & Alone jam. Details on the jam can be found here:
https://itch.io/jam/wretched-jam
The Wretched, by Chris Bissette can be found here:
https://loottheroom.itch.io/wretched
The Wretched & Alone SRD can be found here:
Download
Click download now to get access to the following files:
Exclusive content
Support this Solo Journaling Game at or above a special price point to receive something exclusive.
Escape(Dot)Gov - Community Copies
If you're in need and cannot afford to purchase Escape(Dot)Gov but still want to play, grab a copy from the pool of Community Copies no questions asked.
If you enjoy the game, please spread the word!